The London Square Community Garden has now moved to its new home and lives on in the roof garden which provided the inspiration for the gold medal-winning design - on the Doddington & Rollo Estate in Battersea.
The main elements of the Chelsea Flower Show garden, sponsored by London Square, created by leading garden designer James Smith, and admired by Queen Camilla during her visit to Chelsea, have been donated and craned on to the roof garden.
More than 2,000 plants, shrubs, trees, a dipping pond, a Morso pizza oven, outdoor kitchen, plus a stylish garden table built from recycled marble and inlaid with a chess board, and funky chairs by TV personality and furniture restorer Jay Blades' workshop Jay & Co, plus decorative pergola, are now adding new areas of interest.
It's great that the garden is now in its new home on the Doddington estate for local people and visitors to enjoy. Green spaces are essential for everyone at every age and I encourage all of you to get outside whenever you can and experience the peace and joy they bring.
Jay Blades
We are beyond excited that our community effort was the catalyst for a gold medal-winning garden - and delighted that it is now part of our roof garden here at Doddington. You can walk around the garden and see the trees, shrubs and plants in different areas. The dipping pond has been a big hit with the children and people love to sit at the table for chat, to play chess or have something to eat. So many of our volunteers helped to build the Chelsea garden so this is a big success for our whole community. Our garden is for everyone to enjoy and all are welcome - local schoolchildren, residents on the estate, people living nearby and visitors.
Malissa Ritchie, Chair of the garden volunteers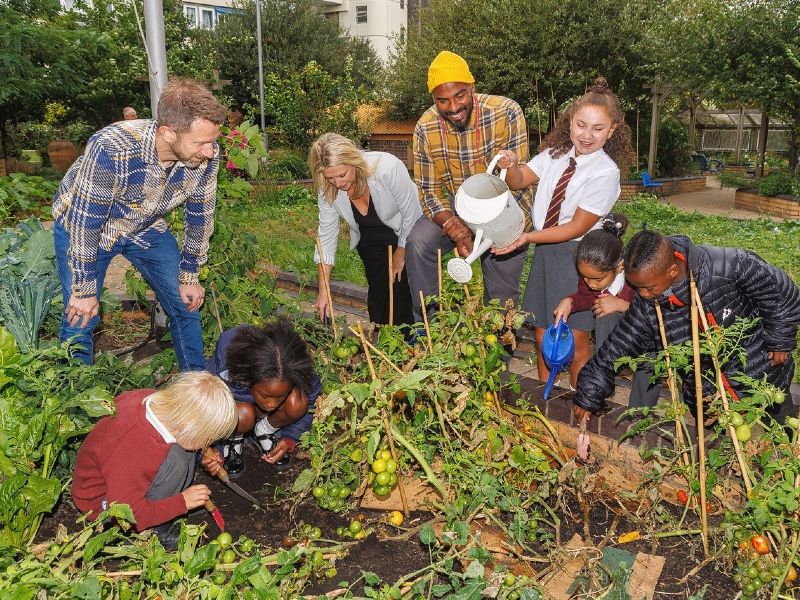 The London Square Community Garden has begun a new chapter and is living on at Doddington and bringing people together. The idea for the garden started at Doddington and we are so glad to see people getting so much pleasure from all the features. Green spaces provide that vital connection for people with nature and with each other – which we always design into the neighbourhoods we build.
Jo McDonagh, Managing Director, North, London Square
The story of the London Square Community Garden
The power of a garden to bring people together was the inspiration behind designer James Smith's London Square Community Garden, sponsored by London Square. The story behind the garden started across the river in Battersea. Hidden away between tall blocks on the top of a former car park on the Doddington & Rollo estate is a half-acre secret garden created by volunteers, built almost entirely with donated plants from Kew Gardens and nearby Battersea Park.
London Square discovered the garden after sponsoring the Open Gardens Weekend across the capital last year, run by the London Gardens Trust. The Doddington garden took part, with summer flowers in full bloom, edible crops, butterfly friendly plants, fig, cherry and apple trees, and produce grown and shared by local residents. Below the roof garden is a space occupied by a food bank and by STORM, a charity which provides support for those affected by domestic violence, and services including a lunch club for the elderly, who often eat in the garden in good weather. Queen Camilla visited STORM earlier this year and praised the charity for its work in the local community.
London Square was so inspired by the work of the volunteers at the Doddington garden, they decided to sponsor the creation of a community garden at Chelsea to show how communal green spaces can help connect people with nature in all kinds of settings.
For the London Square Community Garden, designer James Smith created two distinct areas. Under a pergola, there is a welcoming place to meet up with an outdoor kitchen, a large bespoke terrazzo table, inset with bespoke chess boards, and stylish upcycled chairs in vibrant pops of colour by TV presenter and furniture restorer Jay Blades' workshop Jay & Co, with raised beds containing edible produce for cooking. Stepping stones led to a peaceful spot with a large swing seat and garden bookcase set in a tranquil planted area, with a shady spot under the canopy of a tree. Planting was a mix of lush green textures with blue, purple, white, and pink flowers, with aromatic and scented plants, herbs and shrubs, with trees providing dappled shade. The produce section of the garden had a mixture of vegetables and herbs.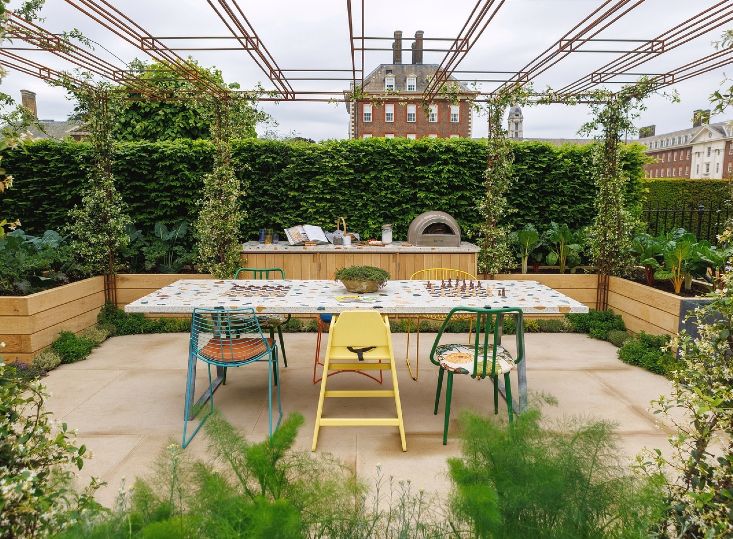 The garden was selected for the royal visit by the King and Queen Camilla to Chelsea, with Queen Camilla enjoying few moments on the swing seat, which attracted global media coverage. During the show, large crowds flocked to see the London Square Community Garden, with extensive TV coverage on BBC News and on the daily BBC's Chelsea Flower Show programmes, where presenters Joe Swift and Rachel de Thame toured the garden.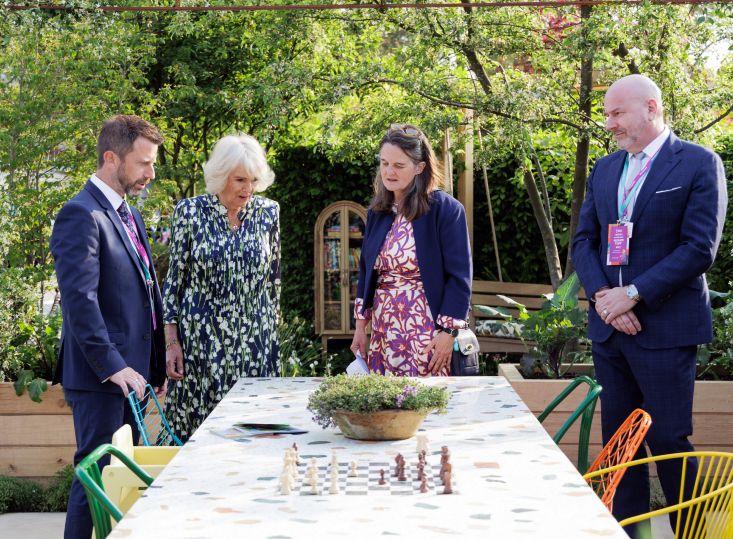 The highlight of the show was being presented with a gold medal by BBC star Nikki Peters to designer James Smith and Jo McDonagh, of London Square.
It was wonderful to involve the Doddington volunteers in the London Square Community Garden at Chelsea, even helping to build it at the Royal Hospital grounds. The garden gave great pleasure to the crowds at Chelsea. Even Queen Camilla was a fan and sat in the garden for a few moments. Winning a gold medal was incredible and the whole project was just so rewarding. I am so pleased to see the Chelsea garden moved to Doddington so it can be enjoyed by local people and they can discover the joy of gardening and the benefits it brings through getting close to nature and being outside.
James Smith